wOtch
A smartwatch for the process industry
Wearable concept & Service
Time: 2 weeks | January 2016
Type: University project
Skills: UI/UX design | Rapid prototyping
Team: Ally Kuziwa | Erik Lundin | Ranja Samir Karim
Outcome: Wearable concept & service
PROJECT OVERVIEW
The project was done in the context of a collaboration between Umeå University Department of Informatics and INTERACTIVE INSTITUTE SWEDISH ICT AB (one of the Swedish national research institutes). The collaboration project is called "TEPI beta" and is funded by VINNOVA. The process industry- including pulp, paper, and steelwork industries, typically depend on extensive automation. The process of transforming a raw material into a refined product is controlled by operators from centralized control rooms. An alternative view to bring the factory to the control room is to look at it the other way around and ask the question: what would it be if we bring the control room to the factory? 
SOLUTION
wOtch is a smartwatch that can make the communication between workers and control room more efficient for both parts fulfill their duties. The watch would be able to show the real-time status of machines and actions needed by a certain machine at any specified time. With Bluetooth technology and the help of sensors, the smartwatch can quickly detect errors in various machines and display those problems in the watch and in control rooms devices such as tablets and ipads.
We started a research on how workers and operators work in those industries. Due to time limitation, our research was limited in theory, film clips and two people that have worked in industries of that kind and could explain the context of their work. A brainstorming session was followed for finding a solution in the question we had. Our solution was expected to reduce repair costs that could be caused by emergency breakdowns and improve communication issues between workers and control room. Using the Axure prototyping tool, we made our low-fidelity prototype and we evaluated it through structured interviews.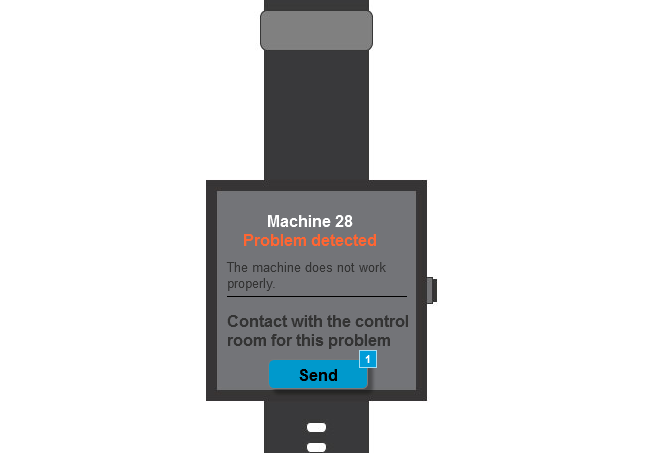 Step 1
The watch through Bluetooth technology and sensors detects a problem in the machine. The watch vibrates, the worker gets an audio notification and by hitting a button a message is sent in the control room.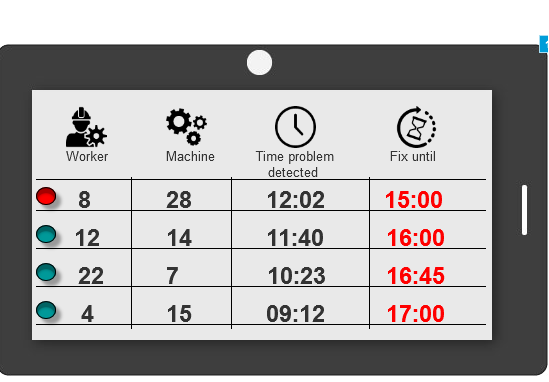 Step 2
The control room sees the problem and decides the person appropriate to fix that specific problem.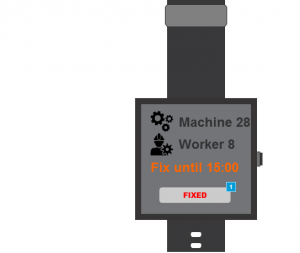 Step 3
The technician fixes the problem and hits the fixed button .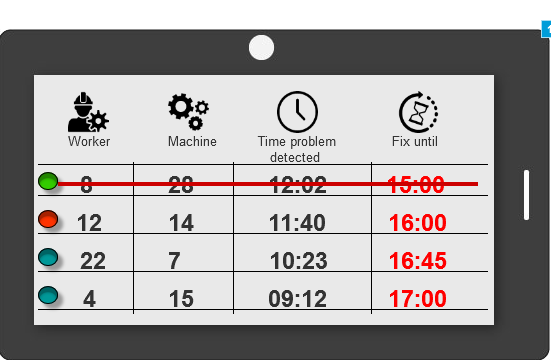 Step 4
The indicator becomes green and  the person in the control room by swiping right  deletes the problem.
Step 5
 The next important problem comes in the top of the list by a red indicator.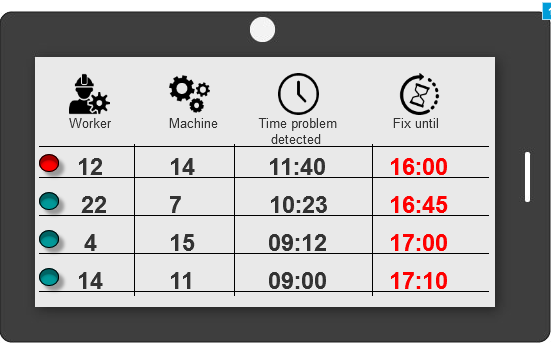 Step 6
The control room decides the technician that will fix the next problem.
Time: 2 weeks | January 2016
Type: University project
Skills: UX/UI design | Rapid prototyping
Team: Ally Kuziwa | Erik Lundin | Ranja Samir Karim
Outcome: Wearable concept & service
Partners: INTERACTIVE INSTITUTE SWEDISH ICT AB